Do not be put off by the word 'acid' when it comes to your skin! The right 'skin friendly acids', their strength and how you use them can make a world of difference. Lactic acid for skin is one such ingredient that has gained popularity over the years. This alpha-hydroxy acid (AHA) is a gentle yet powerful exfoliant and hydrator. (An unsung hero!)
"A highlighter is great, but exfoliation is a better trait!"

 

                                                   Skincare Experts at Harley Street Formulations
Routine removal of dead skin cells is essential for healthier-looking skin, but it must be done correctly and gently to prevent irritation, inflammation and harm to the skin's protective barrier.
But despite the fact that your skin has a built-in exfoliation mechanism called proliferation, as you age, this process slows down. Thus, exfoliating yourself can assist to increase cell renewal.
So, now, the question of the hour is…physical scrubbing or chemical exfoliation?
Both types of exfoliations are meant to remove dead skin cells, debris and boost skin cell turnover. Skin experts weigh in and they all agree that physical scrubs with grits are more likely to harm and irritate your skin barrier since they can be stressful to it. 
What is Lactic Acid?
According to a study published in the journal Molecules in April 2018, Lactic acid is a natural alpha-hydroxy acid that is derived from fermented milk.
It is one of the effective and gentle exfoliating acids for hydration. 
Much hyped in the skincare and beauty industry today, lactic acid is formulated in so many skin topicals such as face wash, standalone facial serums, exfoliators and even sheet masks!
Why is it so raved about?
It is a much gentler version of AHAs than glycolic acid and helps to enhance the tone and texture of the skin by breaking the "glue" that keeps dead skin cells glued to the skin's surface.
Cleopetra's Bath of Indulgence!
The use of lactic acid dates back to Ancient Egypt, when Cleopatra took milk baths that softened and polished her skin because of the acidic, sloughing nature of sour milk.
Chemexfoliation — a Game Changer
On the other hand, chemical exfoliation works by using acids or enzymes to break down the links between dead skin cells. 
Such skin friendly acids, without stripping off your skin's moisture and harming the protective barrier, deliver multiple benefits.
The sugars in your skin are broken down by the acids, which eventually causes the epidermis' cells to loosen and buff away. Revealing smoother, and bright skin with a healthy glow.
Super Benefits of Lactic Acid for Skin
1. Buffs Away Dead Skin Cells
Lactic acid for skin improves skin texture and promotes the removal of dead skin cells that block pores and brings down your complexion. 
Intercellular linkages are broken down by lactic acid, which promotes cell renewal. As a result, it brightens dull complexions and discourages the emergence of blackheads.
So, if you have a date night coming up, do not forget to use this gentle exfoliator! 
2. Hydration and Moisture Retention
The potential of lactic acid to mirror the skin's ability to retain moisture makes it stand out from its other aggressive AHA counterparts. It is super useful for those with dry skin since it pulls water from the environment and hydrates the skin effectively.
3. Bid Farewell to Ageing Signs & Lines
The beauty shelves are swarming with skincare topicals of different concentrations of lactic acid for skin.
In a study, participants were required to apply either 5% or 12% lactic acid concentrations twice daily for three months to what strength is effective to produce visible changes in dermis and epidermis.
While skin smoothness, creases, and wrinkles were improved with both concentrations, skin firmness and thickness were also enhanced with the 12% concentration of lactic acid.
4. Improves Skin Texture & Tone
So many factors can literally bring down your complexion and your skin's radiance. The number 1 skin enemy is the UV rays from the sun. Photodamage can significantly affect your skin from inside and out.
Moreover, environmental pollution and biological ageing that slows down your natural cell turnover rate are too behind your rough and uneven skin texture.
Adding lactic acid to the skin is an efficient way to immediately slough off dead skin cells while promoting long-term collagen building for firmer looking skin. 
We are hooked!
5. Maximises the Performance of Your Skincare
If you wonder why your foundation looks cakey and splotchy every time, consider a chemexfoliant!
If gentleness and less risk appeal to you, then lactic acid for the skin can be a good start.
Regular exfoliation at least twice a week can help your different skincare products and your makeup to perform better.
This is due to the removal of piled up dead skin cells and debris, leaving a not so smooth canvas otherwise.
6. Totally Recommended for Sensitive Skin Types
Lactic acid cannot penetrate the skin as deeply as some of the other AHAs because of its bigger molecular size.
This suggests that most of its exfoliating effects only occur at the skin's surface, making it more bearable for people with sensitive skin.
7. Lightening dark spots and hyperpigmentation
One of the most common skin conditions is discoloration and hyperpigmentation. When lactic acid is in action, it gently boosts the skin cells turnover for a noticeable brightening effect.
Not only this but you also get a unified skin tone, which is devoid of dark spots and dullness.
How to Use Lactic Acid in Your Skincare Routine
Double Up with Hyaluronic Acid
While avoiding over-exfoliating is important, lactic acid can be combined with various skincare treatments. It gets along exceptionally well with humectants such as hyaluronic acid.
Choose Your Sweet Spot — The Right Strength
Take an example of hyperpigmentation condition. By speeding up the exfoliation and renewal of surface skin cells with a noticeable buildup of excess melanin, concentrations of 5–12% can reduce the appearance of discolouration. 
Nevertheless, experts at Harley Street Formulations advise starting with a lower concentration and gradually increasing it as your skin becomes used to it.
A Must-have Anti Acne Solution
Rotating lactic acid with other exfoliants, such as salicylic acid, can help acne-prone or congested skin get a deeper clean.
Lactic acid should not be used simultaneously with topical acids such as:
Salicylic acid
Azelaic acid
Stronger AHAs like glycolic or mandelic acid. 
Moreover, other actives like benzoyl peroxide acne treatments should be avoided due to their potential to cause sensitivity and irritation.
Nevertheless, you should always do a patch test first and watch for signs of overdose, like redness and irritation.
Lactic Acid for Skin Is Your PM Buddy
Yes! This gentle AHA is now your friend, and it works much better when used in your nighttime skincare routine. This is because such acids can make your skin sensitive to the sun's UV rays and photodamage.
So, whether you use it as a facial treatment or targeted skincare for discolouration and wrinkles, make sure to layer it before bedtime. 
Do Not Overdo It, Readers!
Cannot 'overstress' this enough. Lactic acid overuse can irritate and inflame the skin. Use it once or twice a week, depending on your skin's tolerance.
Never Skip Your Daytime Sun Protection
No doubt that AHAs are efficient exfoliators because they reveal the best version of your skin hiding under a pile of dead skin cells.
However, doing so also makes skin more susceptible to UV light damage. 
This signifies the need for proper sun protection, without which, not only do you get sunburn but also, due to the long-term effects of sun exposure, may worsen skin over time.
Kindly wear sunscreen daily with an SPF of 30 or higher to help protect healthy, fresh skin from possible sun damage. 
Ideal Gentle Skin Exfoliant
Experts at Harley Street Formulations highly recommend you all to make weekly skin sloughing an official part of your skincare routine. Your skin is the largest organ of your body and serves you on a daily basis in so many ways! 
So why not add chemexfoliation to your beauty ritual?
The Exfoliate and Exfoliate PLUS are exclusively formulated to gently, yet effectively buff away your top skin layer to reveal a fresher glowing complexion.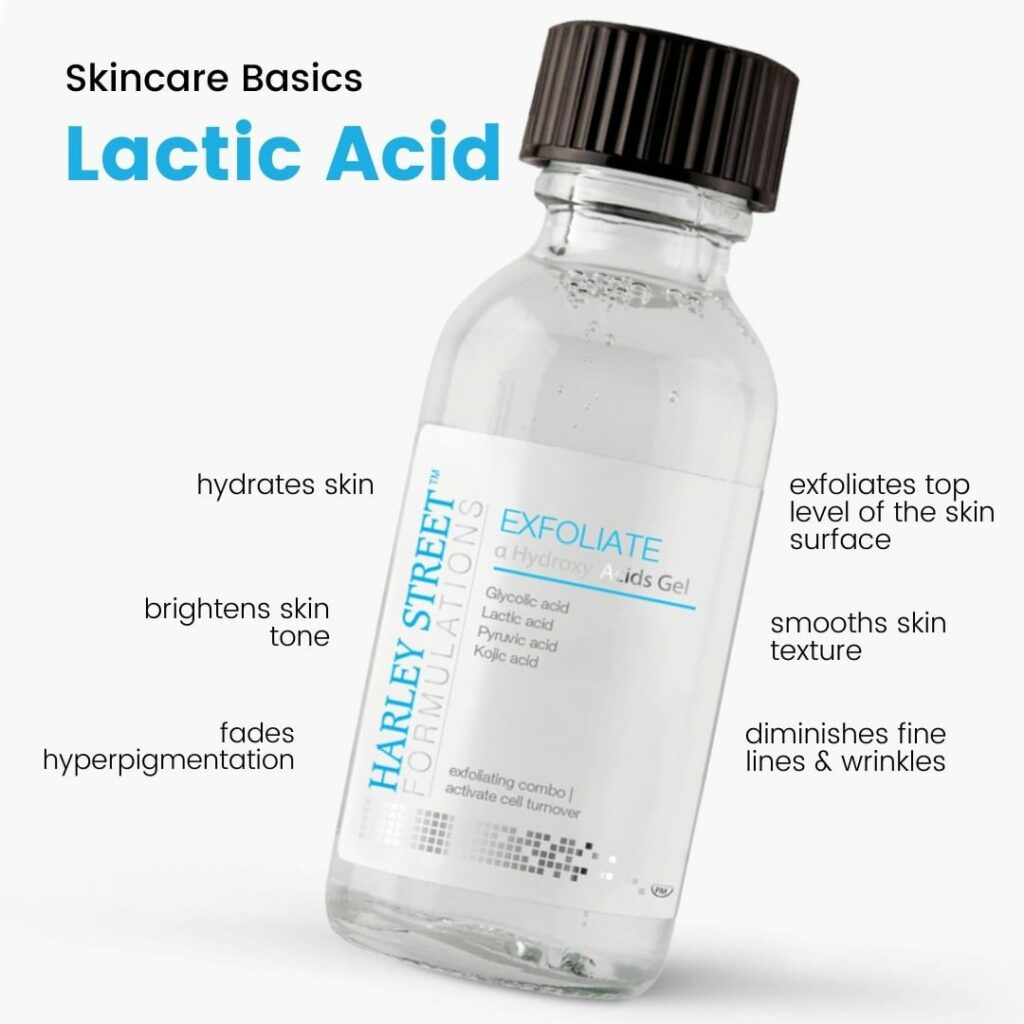 Take a look at some of the perks of these α Hydroxy-Acids Gels:
Delivers a luminous complexion by sloughing off dead skin cells gently
Dramatically reduces the episodes of breakouts by unclogging your pores
A best friend of dry skin users as it eliminates dryness while boosting moisture
Refines and minimises the look of pores especially around your T-zone
Allow your other skincare products to penetrate your skin do their 'thing'!
Love wearing makeup? Do you wish for an airbrushed foundation finish?
A chemexfoliant like EXFOLIATE in your skincare routine can set the stage for your flawless makeup application!
The EXFOLIATE and EXFOLIATE PLUS by Harley Street Formulations containing a blend of AHAs, alpha-keto-acid and kojic acid is ideal for gradual and gentle skin resurfacing. This high quality exfoliating gel is designed for all skin types and tones.
Follow up with your favourite hyaluronic acid based serum or moisturiser.
Possible Side Effects of Lactic Acid
Lactic acid is less abrasive than its other acids of AHAs family, however, there is still a chance that it could irritate the skin.
When applying lactic acid for the first time, there can be a slight tingling, irritation, or redness; as long as it's mild and goes away in an hour, you shouldn't be alarmed. 
Rinse the lactic acid product off your skin right away if the discomfort continues after 60 minutes or if they feel more intense than mild.
Experts' Verdict?
We are not advising you to slather your skin with expired sour milk, which does not sound a good idea anyways. Lactic acid for skin is a much gentler and hydrating version of chemical exfoliant for all skin types. Even sensitive skin type ones!
So, whether you want a good skin slougher, cleaner pores, or simply a healthy glow all year round, lactic acid is a good start. Try Harley Street Formulations EXFOLIATE for a better experience. Just do not forget to shield your skin with an SPF 30 or higher.
Happy exfoliating!