Long gone are the days when heavy foundations and shimmery highlighters were the norm to achieve that 'shine bright like a diamond' look. We believe in the beauty of natural radiance and flawless skin that glows from within. That's why we are thrilled to introduce Dr. Haq's exclusive guide on how to brighten your skin.
It may just be the secret you have been looking for to attain that insta-worthy glow, perfect for any occasion that deserves a spotlight!
"A healthy, clear and glowing complexion is the canvas for a masterpiece"
Let's face it, there is no such thing as a 'flawless skin', a 'perfect complexion' or an 'ideal skincare routine' in this real world.
So, What Do We Mean By Dull Skin?
Dull skin refers to when your skin lacks that healthy glow and appears somewhat flat or lacklustre.
It's not the bright and radiant skin that reflects light beautifully and evenly. Instead, dull skin has an uneven tone and texture, causing light to bounce off it less effectively.
And why does my skin look dull?
We wish there was just one main reason hiding behind a lifeless complexion. Dr Haq has laid out some of the most common causes of dull skin that you need to know:
When your skin doesn't have enough water, it tends to get dry and loses its natural glow. For the outer layer of your skin to stay healthy, it needs about 10% to 15% water content. If this level goes down, your skin gets dehydrated, which can make it look dull, and you might start seeing some fine lines.
As we humans get older, the skin tends to become thinner and produces less oil.
On top of that, years of sun exposure can lead to dark spots, discolorations, and an uneven skin tone.
All these factors, like hyperpigmentation and wrinkles, make it harder for light to reflect evenly, which is why the skin might look duller.
From Sun Kissed To Sun Slapped
Yes, we know how the sun is the ultimate source of Vitamin D for your body.

However, that 'sun kissed skin' / 'effortless tan' may be causing collagen loss, too much melanin production and overall poor skin health in the long run.
Secondly, so many people skip sun protection intentionally or unknowingly, which ultimately takes away a healthy glow of your skin.
Environmental Pollution Damages Skin
Pollution can be quite a troublemaker for your skin, causing free-radical damage that can be particularly nasty.
If you do not take any action, this damage gradually wreaks havoc to the overall look of your skin.
Environmental pollution has a secret way of messing with your skin's natural balance, hence, damaging its protective barrier.
And when that happens, things can get a whole lot worse!
No miracle needed to restore your skin's luminosity…you only need 3 things:
A beauty pantry containing clinical skincare products
Personalised and robust skincare routine that is also practical to your lifestyle
An expert's skincare guide (Harley Street Formulations Skin Advisor)
Let's kickstart with the burning question: how to brighten skin using cosmeceuticals a.k.a. cosmetic + pharmaceutical products?
Read on!
How To Brighten Skin With Vitamin C Serum?
You are seeing your Instagram feed bombarded with posts touting and promoting Vitamin C serums, oranges, lemons for a very good reason!
Clinical skin experts have very interesting studies that support the skin lightening and brightening effects of this viral skincare product.
In a review from 2017, it was found that vitamin C can have a positive effect on the production of melanin, which is the pigment responsible for your skin colour. Vitamin C not only slows down melanin production but also fades dark spots and hyperpigmentation.
No wonder why top skincare brands are obsessed with the skin rejuvenating perks of L-ascorbic acid, popularly known as Vitamin C.
Introducing The Revitalise Line Of Vitamin C Serums
Harley Street Formulations have designed one of the current internet sensations Vitamin C serum in two 'almost perfect' concentration variants.
Revitalise C12
Revitalise C20
This serum is packed with powerful antioxidants that can help you fight 'Skin Aging' and 'Photoaging.'
That means it'll keep your skin looking fresh and youthful!
Not only does this serum work wonders in clarifying and treating hyperpigmentation, but it also deals with collagen loss, which can be a concern as you get older.
What is more impressive is that the formulae of these serums is fragrance-free, cruelty-free, and silicone-free
So good news for all those who are serious about their skincare and want to avoid any possible irritation or inflammation of skin. It's suitable for all of you!
Revitalise C20 Vitamin C Serum For Face
Our hot seller AM facial serum! Revitalise C20 with a whopping 20% L-Ascorbic Acid + Ferulic Acid + Vitamin E + Vitamin B3 + Vitamin B5.
An ultimate skin brightening formula available in one bottle. Sweet!
What is the big deal about Vitamin C you ask?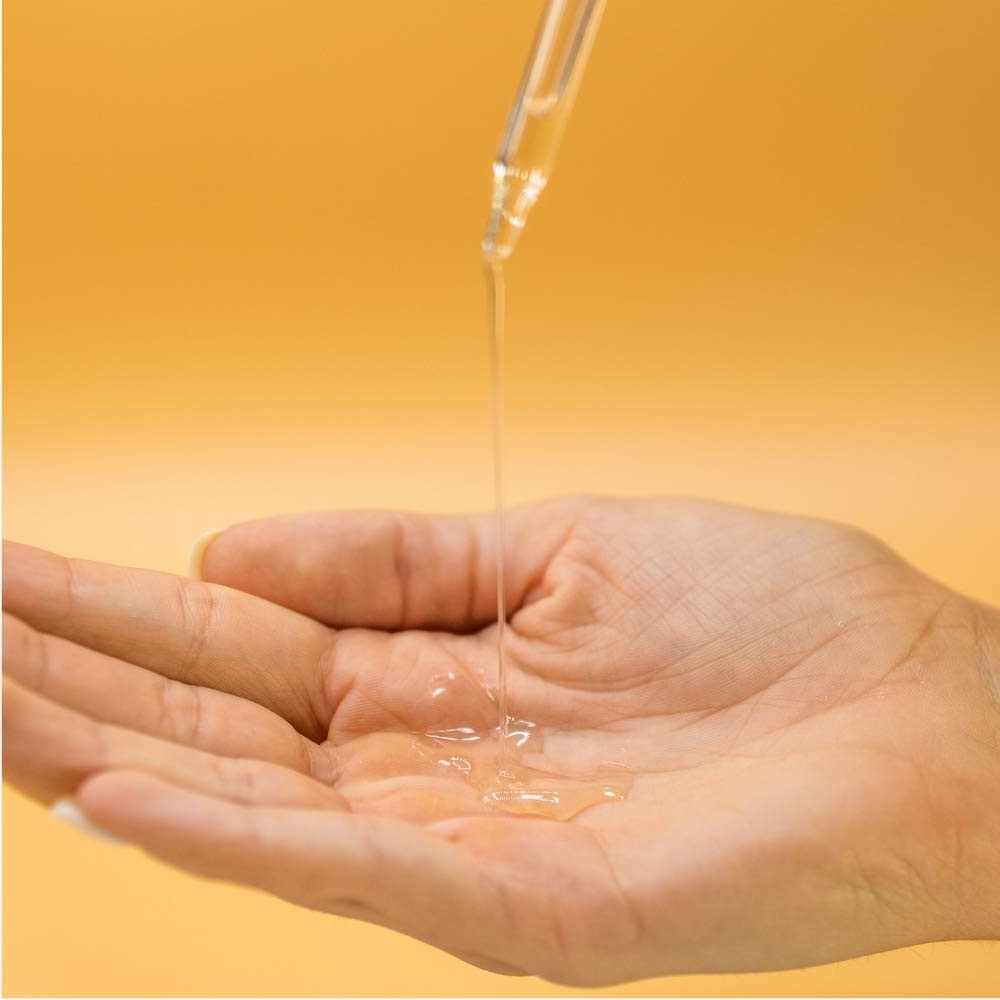 Vitamin C is a super powerful antioxidant, which means it efficiently scavenges free radicals. These free radicals can cause all sorts of trouble like excess pigmentation, making your skin look dull and uneven.
L-Ascorbic acid in Harley Street Formulations vitamin C serum saves the day and prevents those unwanted pigmentation problems.
Moreover, skin inflammation that also results in unwanted skin discoloration is effectively calmed down by regular usage of Revitalise C12 or C20 serum to make your skin look fresh and healthy.
Loaded Benefits of Revitalise C20 Vitamin C Serum:
If you are wondering why Revitalise C20 and C12 vitamin C serums by Harley Street Formulations remain a cult favourite throughout the UK, then here is the compiled list of perks enjoyed by the regular users:
Ideal for most skin types
Plumps & hydrates
Clarifies the complexion
Lightens and fades unsightly dark spots and hyperpigmentation
Softens fine lines and creases
Encourages collagen and elastin production
Scavenges free radicals responsible for oxidative stress
Beefs up the power of sunscreen during the day
Revitalise C12 Vitamin C Brightening Serum
The Revitalise C12, the ultimate facial serum featuring vitamin C and Ferulic acid – a powerful duo for your skin.
With 12% pure Vit C (L-ascorbic acid) and 0.5% Ferulic acid, Revitalise C12 is your ticket to skin bliss.
This antioxidant powerhouse brightens up your skin like nothing else, leaving it feeling supple and smooth after regular use just before your sun sunscreen.
Moreover, ferulic acid has been added to level up the game.
It not only doubles the photoprotection effect of Vitamin C in the formula but also plays a crucial role in stabilising it.
This means your skin gets the maximum benefits from this winning combination.
Just take a look at what a regular and religious user of our favourite vitamin C serum has to say!
Stellar Reviews of Revitalise C12 Vitamin C Serum
This is when the need for a powerful skincare routine comes into the picture.
Let's find out how.
Dr HAQ's Recommended Bright Skincare Routine
For all those who believe in an overnight miracle when it comes to their skin's health and simply look down upon the importance of a skincare routine need help with some facts.
"Taking care of your skin matters more than just hiding it with makeup."

Dr Ahmed Haq
Dr Haq, a renowned aesthetic practitioner and skin care expert has made 'skincare routine building' super simple:
"Finding the perfect cleanser that matches your skin's needs, a gentle chemical exfoliator like glycolic acid, a reliable vitamin C product that works effectively in the morning, and a gentle retinol perfect for nighttime use. Last but not least, a broad-based sunscreen that feels comfortable and hassle-free for your daily application, are all crucial elements in your skincare routine."
Skincare Plan: How To Brighten Skin
Adding Topicals with Clinical Skincare Actives
Not everything you see on the shelves of grocery stores or beauty retail stores actually deliver visible results. Do not fall for the fancy packaging and catchy jingles of skincare commercials.
The only way and we repeat…the only way to make your skincare creams and serums work for you is by adding 'skincare actives' to your AM and PM routine.
What Are Skincare Actives?
Actives are potent compounds scientifically proven to change your skin's structure at a cellular level.
The ultimate goals of such ingredients?
Repair and restore
Rejuvenate
Clarify
Hydrate
Protect
Nourish cells.
D. Haq names some of the commonly used actives, such as retinol, Alpha Hydroxy Acids (AHA), Beta Hydroxy Acids (BHA), niacinamide, hyaluronic acid, vitamin C, SPF, ceramides, and benzoyl peroxide.

Active ingredients are specially designed to target specific skin concerns such as:
Photodamage / Sun damage
Wrinkles and fine lines
Acne and acne scars
Dryness
Uneven skin tone
Dark spots and hyperpigmentation
So, should you really reach out for these active ingredients?
Absolutely! Retinol, which comes from vitamin A, is excellent at fighting premature ageing. When you apply retinol to your skin at night, it speeds up cell turnover, renewing your skin cells and dealing with hyperpigmentation problems, especially as you slumber.
So, if you want to even out your skin tone, reduce wrinkles, or fade dark spots, giving retinol a try might be a great idea. Dr Haq highly recommends Stimulate RE Retinol cream which is super friendly for sensitive skin.
On the flip side, vitamin C when added to your morning skincare ritual plays a crucial role in boosting collagen production, which keeps your skin plump and youthful.
Hence, vitamin C serums such as Revitalise C12 or C20 revives a lacklustre and dull looking skin to deliver a radiant and healthy complexion.
So, next time you click the 'Add To Cart' button as you shop for a bright youthful looking skin, do not forget to skin through the ingredient list to find the key skincare actives.
This is so important if you want to be assured that you have made the right and wise investment!
Buff Away With ChemExfoliation
According to Dr. Haq, the CEO of CosmeDocs and an expert at Harley Street Formulations, exfoliation is the key to slough off those dead skin cells and reveal fresher skin underneath.
He also strongly advises not to grab those skin tearing physical exfoliators from the shelves.
Instead invest in an Alpha Hydroxy Acid (Glycolic Acid), such as EXFOLIATE which is fantastic for warding off uneven complexion and giving your skin a healthy glow.
It helps with those annoying sun-hit skin spots and can even tackle dryness issues.
On the other hand, you can reach out for the Beta Hydroxy Acid (Salicylic Acid), which is perfect for combating breakouts and congestion.
If you've been struggling with unwanted skin guests that we call pimples, this is your new best friend!
It dives deep into your pores, cleaning out all the gunk and leaving you with smoother, clearer skin.
Mind Your Sun Protection — Come Rain or Shine
Embracing summertime? Dr Haq advises caution.
Too much unprotected or insufficient sun shield from UV rays can take away your glow.
Slathering on the sunblock is not just meant for the beach days; in fact its daily application can make your skin look all smooth and even.
So no matter what season or the weather you have outside, be sure to prevent, protect and repair UV rays before it damages your skin's health and confidence…and expensive skin treatments!
So, there you have it. Dr Haq's super simple and super concise guide on how to brighten skin without too much effort or burning a hole in your pocket!
All you need to do is to invest in a heavy duty skincare routine that is clinically proven and is hailed by dermatologists worldwide.
Reclaim Your Glow That Is Worth a Show!
If you thought that taking care of skin needs a lot of hard work and time investment, then think again.

A personalised skin brightening plan does not need to be so complicated.
Just add clinically formulated serums and creams to your daily AM and PM routine and stick to a Do's and Don'ts' such as:
Hydrating throughout the day
Staying miles away from smoking and going easy on the booze
Booking a monthly skin boosting treatment say, a HydraFacial at a premium skincare clinic
Practising more and more self love!
Do not shy from shining bright, this is what you are meant to do!